He is one of Australia's most prolific cricketers but Allan Border has been happy to live in the shadows. In a new documentary, he can't hide his genius from him, writes SHANNON GILL.
Allan Border admits he was hoodwinked into sitting down and making a documentary about his record-breaking career.
"I sort of got hijacked a little bit," he tells CODE Sports with a laugh.
"It started out being a chat about facing the West Indies sides in the 80s given the Test series against them was looming. Then all of a sudden it morphed into a, 'Well, may as well start at the start' and away we went."
The end result is Allan Border: My Story, a three part documentary series from Fox Cricket that starts screening after play on Day 2 of the Boxing Day Test.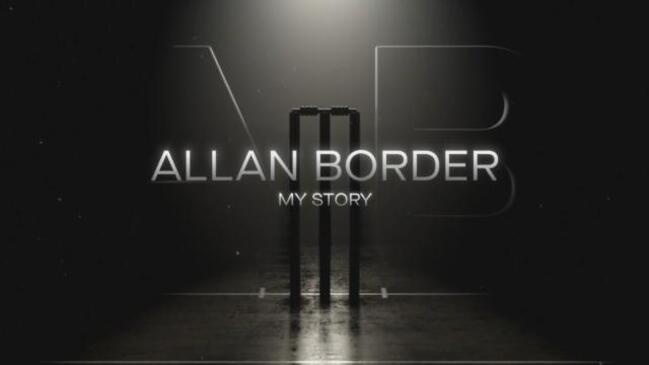 Border, who retired in 1994 as the most capped player in Test history and its most prolific run-scorer, was always the humble champion.
Never one for self promotion and always a tad uncomfortable with public adulation, he hasn't sat down and analyzed his career with this depth on camera before.
The experience was initially a daunting one.
"I probably sat down for seven hours, talking about myself and my career," he says.
"You've lived it, but you've never heard yourself back recounting it. However it gets easier as you get into it and by the end I quite enjoyed the reminiscing."
The Border career spanned one of the most turbulent periods in Australian cricket.
From World Series Cricket and Rebel Tours to rock bottom team performance and redemption, Border not only had a front-row seat in the era, for most of the time he was driving the bus.
He speaks candidly on all those controversies.
While the story is Border's, it also paints a picture of the broader evolution of the game and the many landmines it had to contend with, through his eyes.
"The whole spectrum was pretty well covered in the 15 years that I played. The bad times are hard work, and I had a bit of everything."
As part of the documentary process he's come to a few self-critical conclusions to sit aside his legendary achievements.
"I was ultra-competitive and ultra-serious and I took myself far too seriously at times," Border says.
"I've mellowed a lot and you now look back on things and have a bit of giggle. You thought something at the time was the worst moment ever in the history of mankind and now you realize, 'Hang on mate, it'sa game of cricket'."
One such infamous moment he touches on in the documentary was the fearful verbal barrage he unleashed on his fast bowler Craig McDermott caught on camera and audio during a county match on the 1993 Ashes tour.
"It happened out of nothing and 10 seconds later we'd forgotten about it, but it's been replayed and replayed over the last 30 years," Border says, the documentary containing his side of the story.
It also features insights on Border from teammates and opponents like Mark Taylor, Kim Hughes, Steve Waugh, Brian Lara and Desmond Haynes.
Border watched and enjoyed the Shane Warne documentary that was released just months before his tragic passing. It has also had an indirect influence on Border telling his story about him.
"You've now got this captured," Border says.
"There's so much footage of Warnie, but him sitting down and going through a warts and all process, that's gold to have there for everyone to see at any time."
"So it's all good to have my story all in one place too."
Border says he hasn't seen the finished product, he'd prefer to watch it at the same time the public sees it.
However there won't be a party to herald its screening in the Border household.
All these years on, unlike his mate Warne, the spotlight still does not sit easily with him.
"I'll probably have to sit by myself to watch it," Border says.
"I'll feel a bit embarrassed to be sitting around people, probably my own family even."
If he's a little apprehensive about how it will be received, his wife and children have a different view.
"They're all pretty excited. My two girls are not cricket fans, but they're dad fans. And my better half she'll be a silent critic," he laughs.
But he expects his sons to give him the most, shall we say, feedback.
"They'll pan the shit out of me for sure!" he laughs. "I'll come back to earth pretty quick if I'm giving any self-congratulation."
The experience has been a positive one for Border, and perhaps for the first time he realized the magnitude of his longevity and achievements.
"When it was all said and done and I got out of the chair, it was seven hours to get through the career. You don't realize at the time, but I played for 15 years and it's a long time.
"At the end of the day I'm happy I've done it all, and fingers crossed people enjoy the ride as well."
– The first of the three-part series Allan Border: My Story is released on Fox Cricket at 6pm on December 27 and can be watched on Foxtel and Kayo
.