Eddie Jones' appointment as Australian coach in a bombshell $4.5 million deal has received plenty of media attention over in the United Kingdom, and understandably so.
Less than seven weeks after being stood down as England mentor, the 62-year-old has signed a five-year deal with one of the nation's biggest rivals — and there's a Rugby World Cup just around the corner.
Stream Over 50 Sports Live & On Demand with Kayo. New to Kayo? Start your free trial now >
On Monday morning, Dave Rennie was sacked as Wallabies coach following an underwhelming three-year stint as national coach, with Jones unveiled as his replacement.
Jones has eight months to prepare Australia for the 2023 Rugby World Cup in France, officially starting the new role on January 29.
News of Jones' appointment inevitably ruffled some feathers over in the England. The Australian's sacking raised eyebrows last month, and now the Red Roses could come against him and a reinvigorated Wallabies outfit in the World Cup quarter-finals.
"The nightmare for England might only just be beginning," The Telegraph's chief sports writer Oliver Brownwrote.
"If there is one constant in his career, it is that he loves nothing better than to rub his tormentors' faces in the dirt.
"Jones is seldom more dangerous than when he makes it personal.
"Homecomings do not come any more piquant, or more laced with intrigue. For the RFU, it could yet be a hellish reminder of what they have lost."
Jones' World Cup record is unrivaled — he boasts a success rate of 82 percent in the tournament while coaching Australia, South Africa, Japan and England in 2003, 2007, 2015 and 2019 respectively.
The Guardian's Robert Kitson warned that Jones could come back to "haunt English dreams" in France later this year.
"Until now the most gripping Australian sequel has probably been Mad Max 2. As anyone who has ever watched it will be aware there is a particularly scary moment when Wez, the baddie with the punk mohawk who everyone thought was history, suddenly reappears on the bonnet of the road warrior's thundering truck. For some at Twickenham the return of Eddie Jones as Australia's head coach must feel pretty similar," Kitson wrote.
"Because if the Rugby Football Unions thought it had seen the back of Eddie it has been proved spectacularly wrong. Like Freddie Krueger in a tracksuits he is now back to haunt English dreams."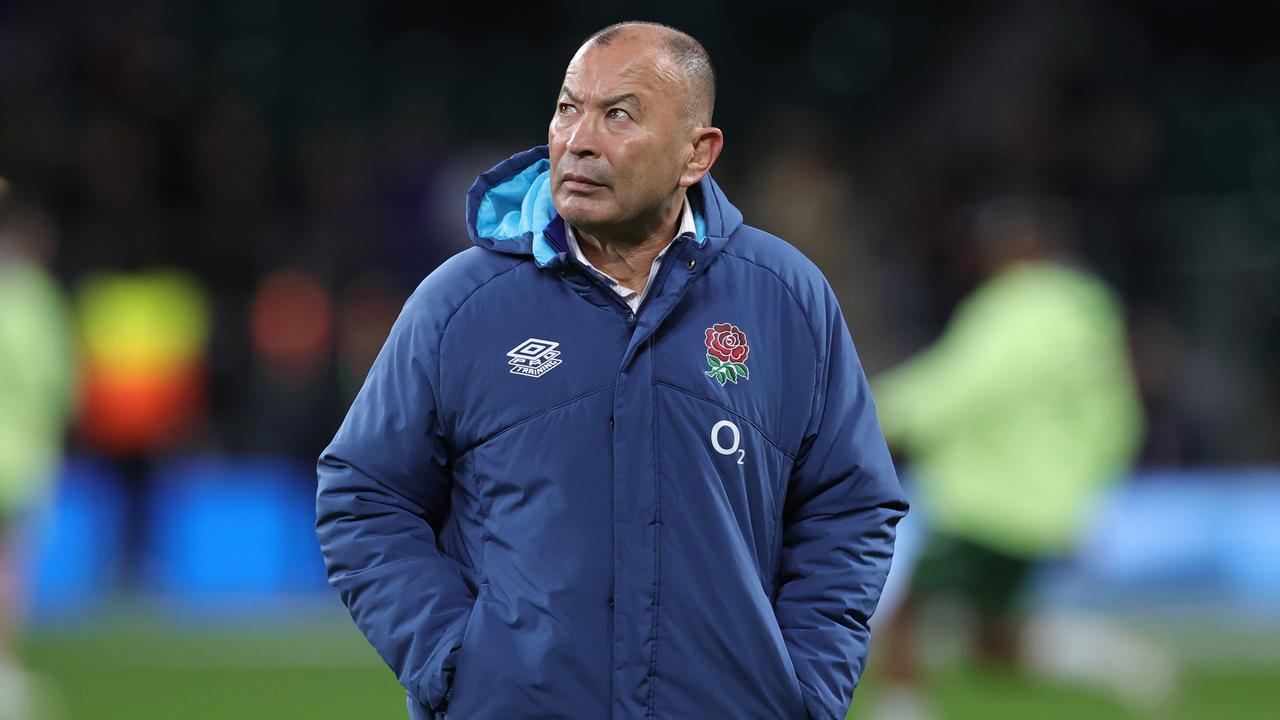 The Times' Owen Slot suggested Jones' return was precisely what the Wallabies needed following a disappointing couple of years under Rennie, but warned the honeymoon period might not last five years.
"Jones will give the Wallabies a bounce. He will shake them up, reinvigorate, reinspire, he will simplify the message, build momentum and then apply his brilliant coaching brain to the task ahead — the World Cup — and plot something smart. That's his thing," Slot said.
"What he has never done after building a winning team is to sustain their success. He does coaching, not culture; he builds successful campaigns, he doesn't build empires.
"What is really intriguing is how long the Eddie bounce lasts. Or, to put it another way, that loaded gun that Rugby Australia has in its mouth — how long until it goes bang?"
Slot also criticized the RFU for not insisting on a non-compete clause in Jones' severance package, allowing him to sign for a rival nation and take his intellectual property with him.
"Some nervous Englishmen are asking — when the RFU rewarded Jones with that weighty severance package, why wasn't there a non-compete clause in there too?" Slots wrote.
Jones appointment endorsed by Kearns | 01:14
"The governing body said that, from 'legal and moral perspectives', it would have been 'unreasonable' to place restrictions on Jones. But if he had been given just a year's gardening leave, he could have kept his earnings up in club rugby.
"For what it's worth, I think Australia will get a bounce with Jones and England will get a bounce without him, but England will bounce higher because they happen to have better players."
Jones is set to lead the Wallabies through to the 2027 World Cup on home soil, including the blockbuster 2025 British & Irish Lions tour.
"Jones' return is a blockbuster move at a time when the game in Australia could welcome a jolt. Who knows what shape the Wallabies will be in by the time Australia face Warren Gatland's Wales in that crunch Pool C game in Marseille later this year," The Telegraph's Ben Coles wrote.
"But give Jones another couple of years rebuilding and honing a crop of young players who have plenty of promise but are yet to fully deliver, and suddenly a Lions series which initially underwhelmed in comparison to the prospect of facing the All Blacks or Springboks becomes far more intriguing."
.