IT SOUNDS LIKE Kate Sheehan never really had a tough choice to make when it came to sport. Rugby chose her.
The Munster hooker's grandfather and uncle were both presidents of Richmond RFC in Limerick. Her dad di lei used to bring her to Thomond Park to watch Munster games, as well as along to Garryowen and Young Munster matches in the AIL.
Sheehan's older brother, David, played AIL for the Cookies. That's where she first played too, joining in with the boys in the minis until she turned 12 and had to finish up.
"It was like 'OK, bye' – there was nowhere to go after that for me," says Sheehan of how women's rugby lacked much of a pathway back then.
Sheehan tried basketball but found herself getting sent off for being too aggressive. She yearned to be back on the rugby pitch.
"Now, me and my brother would still play at home and my mother wouldn't have a flowerpot left, we had the house destroyed, so I kept it up to some level," says Sheehan with a smile.
It wasn't until she turned 16 that she properly returned to rugby when UL Bohemians invited her out to senior training during the 2005/06 season.
Back then, the Bohs team was stacked with Ireland internationals, several of whom would go on to win a Grand Slam a few years later.
"I remember feeling totally overwhelmed, to be honest, but the girls were great, they just took you under their wing and showed you the ropes," says Sheehan.
"We've always had an environment where as much as we've got great coaching, it's very much player-driven. We're constantly driving each other. I've made unbelievable friends over the years. I'm 18 or 19 years playing with Bohs and they're the best memories."
Sheehan has seen the women's game grow and grow in that time. She remembers how there were n't any women's Munster jerseys to buy back when she used to go to Thomond Park with her dad.
These days, the inter-provincial championship that she's part of again this year is being screened live on TG4 and is sponsored by Vodafone. Different times, but Sheehan says there's plenty more progress to be made.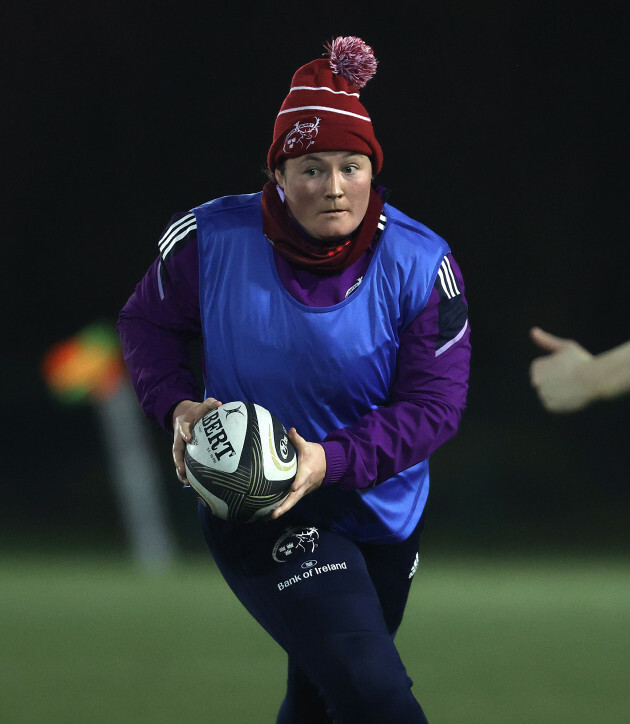 Bryan Keane/INPHO
Sheehan at Munster training.

Bryan Keane / INPHO / INPHO

"I definitely have seen it evolve, even looking at the documentary that TG4 put together last Friday night [Rugbaí na mBan: Ag Briseadh Tríd], you can see the evolution. We're not where we need to be, but there are things happening and we're seeing that.
"The media coverage has been really good, young girls can turn that on and then go to their clubs and say, 'I want to do that' on a Sunday morning. It's driving more girls into the game."
Sheehan's focus right now is on helping Munster to back up last weekend's resounding 34-0 win over Ulster in the opening round of the inter-pros.
This weekend, Munster faces Leinster at Musgrave Park. With Leinster having beaten Connacht 38-10 last time out, this already feels like the decider of the inter-pros even if there is a third round to come. Sheehan disagrees that this is akin to a final, but she's hoping Munster can improve on their win over Connacht.
"It's always great to start with a win," says Sheehan of last weekend's victory.
"The conditions were challenging, in the warm-up on Saturday I was throwing into the lineout and was like, 'Oh God, here we go'. It settled then, we'd the wind into our faces in the first half, but we were delighted with the way we came out and we've a lot to build on this weekend. We're proud to come away with the nil."
She knows Munster's discipline needs to be much better given how strong a kicker Leinster's Dannah O'Brien is, but Sheehan is excited about the challenge ahead.
She shows no signs of losing her appetite for the game.
"I don't know where my life would be if I didn't pick up the ball," says Sheehan.
"So anybody thinking about it or considering sending their daughter out, I think it could be the best decision you could ever make because regardless of whether they go on to play for Munster or Ireland. It's the club scene that's the craic.
"It's the friends, if they don't seem themselves, 'let's go for a coffee'. It's a massive circle of people that will support you and you can take that into any aspect of life. Yeah, it's been one of the best things I've ever done."
Get instant updates on your province on The42 app. With Laya Healthcareofficial health and wellbeing partner to Leinster, Munster and Connacht Rugby.
.