The full version of this article is available exclusively to members of the The42. To sign up, read the entire piece and enjoy the many benefits of membership including access to the unmissable Rugby Weekly podcast with Gavan Casey, Murray Kinsella, Bernard Jackman and Eoin Toolan, click here.
THE WONDER TRY that Munster produced last weekend at Stade Ernest-Wallon bore more than a passing resemblance to Ronan O'Gara's score for the province against Toulouse back in 2000.
O'Gara's effort came in Bordeaux in a glorious Heineken Cup semi-final win and while the final result wasn't as sweet this time around, Munster showed that their attack continues to move in the right direction under Mike Prendergast, who head coach Graham Rowntree insisted on bringing back to the province as his attack specialist when he was appointed head coach.
The offloading, the passing, the sheer pace of it all – Tadhg Beirne's second-half try was proof that Munster's shift in mentality and their very different approaches to training this season is bearing fruit.
The try-scoring passage starts with Munster receiving a kick from Toulouse fullback Melvyn Jaminet after Joey Carbery has found grass down the middle of the pitch, limiting the French side's options.
As Jaminet chases his own kick, watch how Malakai Fekitoa and Craig Casey move to impede him, allowing Shane Daly to catch uncontested.
Fekitoa and Casey risk getting penalized for obstruction but their work ahead of the ball is just subtle enough. Both could argue that they're simply moving towards the landing point of Jaminet's kick.
With Jaminet unable to get at Daly, he can field the ball comfortably and run back at Toulouse. As we see below, he gets to the middle of the pitch and passes to Carbery, who in turn passes to Peter O'Mahony.
There's nothing scintillating here but it is positive to see Munster at least making two passes as they explore potential space immediately on kick return. This has been a trend under Rowntree and Prendergast, with players clearly encouraged to be more ambitious in transition. Munster now bring a try-scoring mindset to turnovers of possession, even if they're not actually scoring directly on first phase.
The ball being passed also gives others time to begin getting organized for the potential next phase, as highlighted below.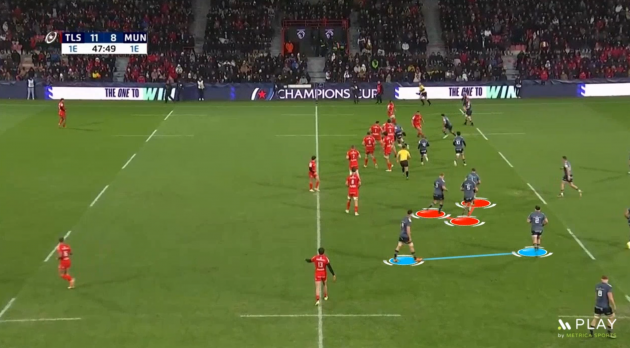 What we see here as O'Mahony carries into contact is a 3-man pod of forwards [red] moving to get closer to the ball and a 2-man pod [blue] that will set up slightly wider as Munster play from right to left on the next phase.
As this season has progressed, Munster's forwards have slipped into shape much more comfortably, allowing them to put together positive passages in attack.
Meanwhile, O'Mahony makes a good carry and Antoine Frisch clinically clears out to ensure a lightning-quick recycling.
The ruck is a huge focus for Prendergast and Rowntree, so they will have been very frustrated to give up six breakdown turnovers to Toulouse in this game, with the world-class Julien March and causing havoc. In this instance, they get quick ball.
Casey bounces back to the left and we see the benefit of Munster's shape.
As Carbery works in behind the 3-pod, we can hear over the ref mic that he or someone else is screaming, "Sweep, sweep," which indicates that Munster want the 'sweep pass' from Tadhg Beirne to Carbery 'in the boot ' behind the pod . . .
To read this analysis in full and enjoy the many benefits of The42 membership including access to the unmissable Rugby Weekly podcast with Gavan Casey, Murray Kinsella, Bernard Jackman and Eoin Toolan, click here.
.