Two basketball games are never the same, but this was really something.
An 80-51 win for the Nebraska women's basketball team on Wednesday against Penn State was fueled in part by a big turnaround from beyond the arc.
On Saturday, Nebraska shot just 2-for-25 on three-pointers in a disappointing loss at Rutgers.
Just a few days later, Nebraska had already matched that number of threes in the opening four minutes of the game, and the Huskers were just getting started. Nebraska finished 13-for-28 on threes, outscoring Penn State by 24 points on threes.
Most importantly, the win ended a three-game losing streak for the Huskers (11-6, 3-3 Big Ten). But it also marked 300 career wins for Nebraska coach Amy Williams — 97 at Rogers State (NAIA), 96 at South Dakota and 107 at Nebraska.
Williams is 300-199 (.600) in 16 career seasons, including a 107-90 (.541) record in seven years at her alma mater.
Callin Hake made four threes, Maddie Krull had three and Jaz Shelley and Isabelle Bourne had two each. Annika Stewart and Kendall Moriarty had one piece.
Hake scored a career-high 16 points. Shelley almost had another triple-double, finishing with 10 points, 10 assists and nine rebounds.
Alexis Markowski had 11 points and 15 rebounds. Krull added 14 points.
Makenna Marisa led Penn State (11-6, 2-4 Big Ten) with 14 points.
The Huskers shot 46% on threes — just off its season-best of 48% — after shooting 8% in the last game. It was Nebraska's ninth game making double-digit threes this season. Nebraska ranks second in the Big Ten in made three-pointers (8.4 per game).
How do you explain such a big improvement beyond the arc?
"It feels pretty good, I'll tell you that," said Krull, who made 3 of 5 attempts beyond the arc. "I think it goes back to confidence, and I think it goes back to repetition. We all took that (Rutgers) loss very personally, and knew that we didn't want that to be the case ever again. So just keep getting shots up and getting reps."
In the first quarter, Hake made back-to-back threes to put the Huskers up 12-8, and at that point, all of Nebraska's points were off three-pointers.
After how the last game went, getting those threes to go early was a relief.
"When you shoot the ball well there's just a little more pep in your step," Williams said. "It allowed us to play with confidence."
The Huskers just kept going, with a 12-2 run to end the first quarter giving Nebraska a 21-10 lead.
In the first half, Nebraska was 8 for 20 on three-pointers. Early in the third quarter, Krull made Nebraska's ninth and 10th three-pointers as the Huskers lead reached 17 points.
Bourne made No. 11 early in the fourth quarter and Nebraska was still in control with a 64-38 lead. Nebraska left no doubt with a 14-0 run to start the fourth quarter.
Nebraska also did work on the boards, outrebounding Penn State 52-33.
"When you have 52 rebounds you better be coming out on top," Hake said. "We had a competition within our team today on the boards."
With 10 points on Wednesday, Bourne reached 1,000 career points. And it came on the night the program honored its two players from Australia – Bourne and Shelley.
"What a consistent presence that (Bourne has) been in our program over the last 3 ½ years," Williams said. "For her to be the 36th player in our program's history to reach 1,000 points tonight on Australia Night is just a really special accomplishment for a kid that I think really embodies what it means to be a Husker women's basketball player. She's been tremendously consistent with her contributions."
Nebraska hosts undefeated and No. 3 Ohio State on Saturday.
Photos: Nebraska seeks end to 3-game skid vs. Penn State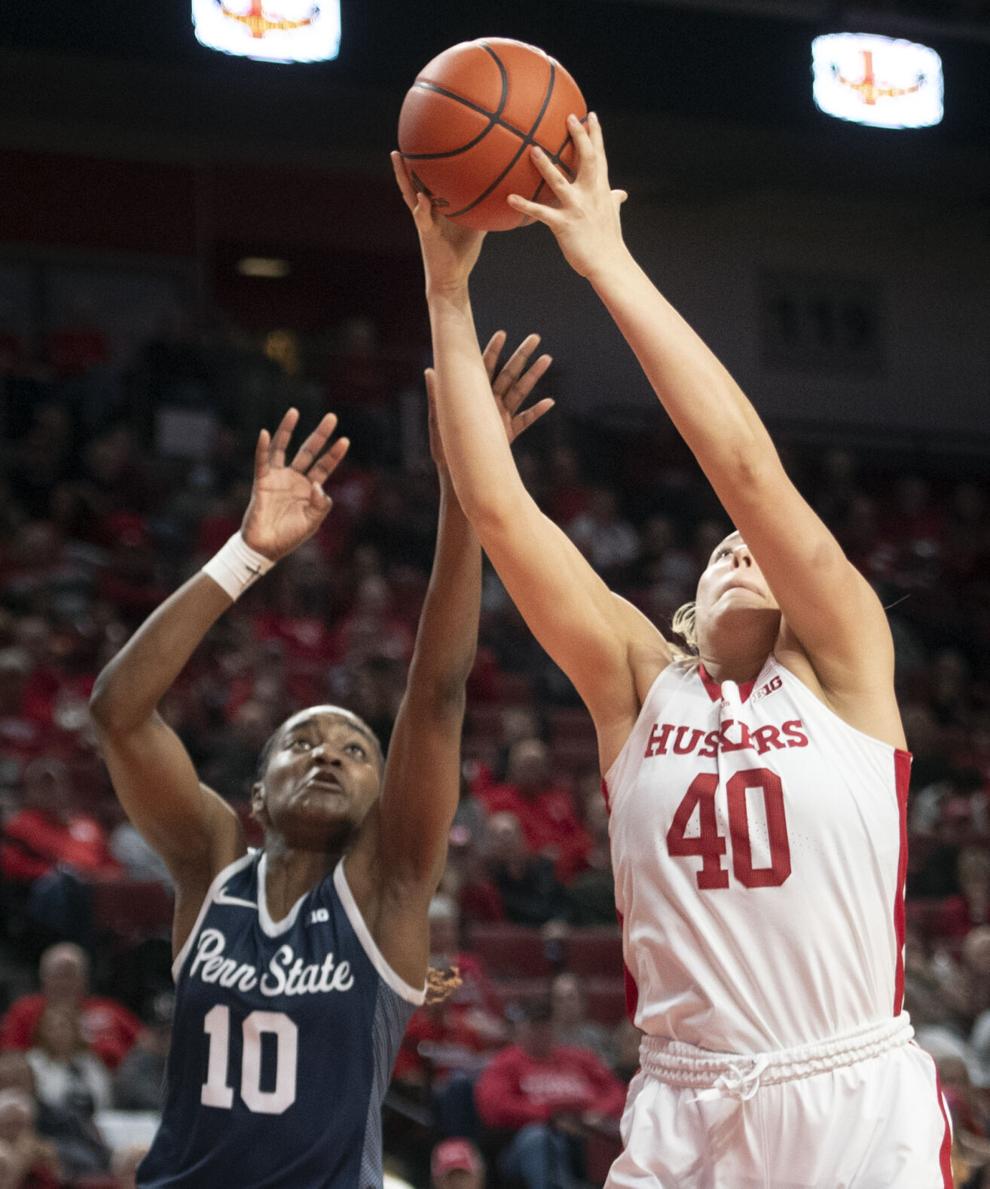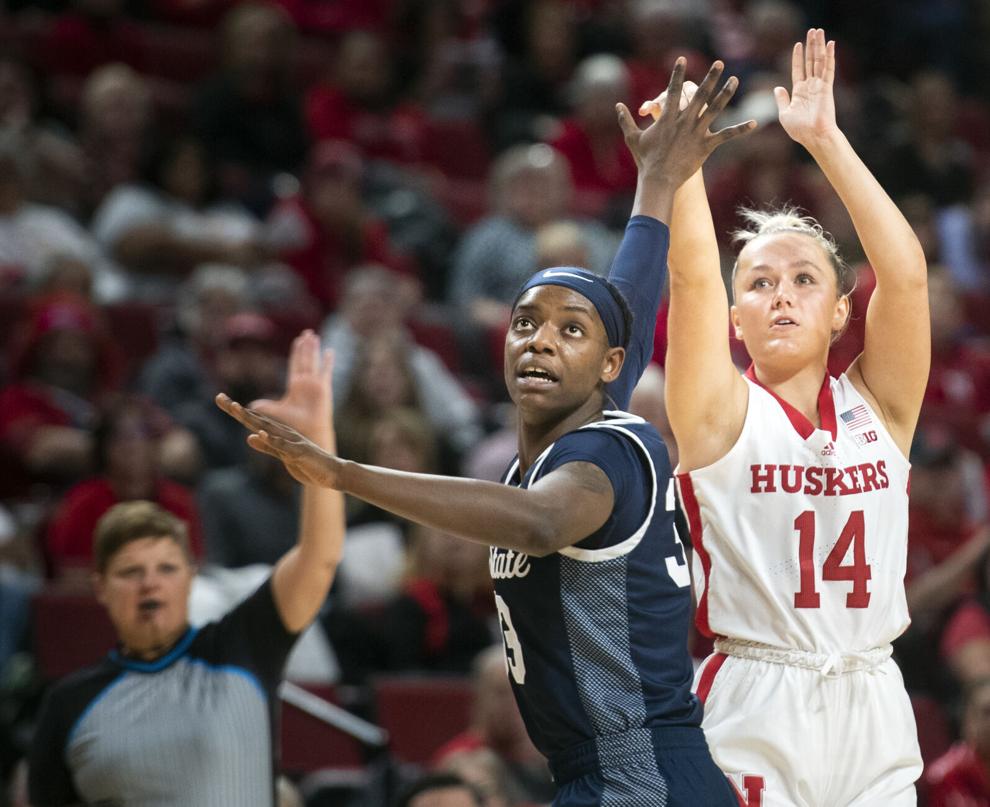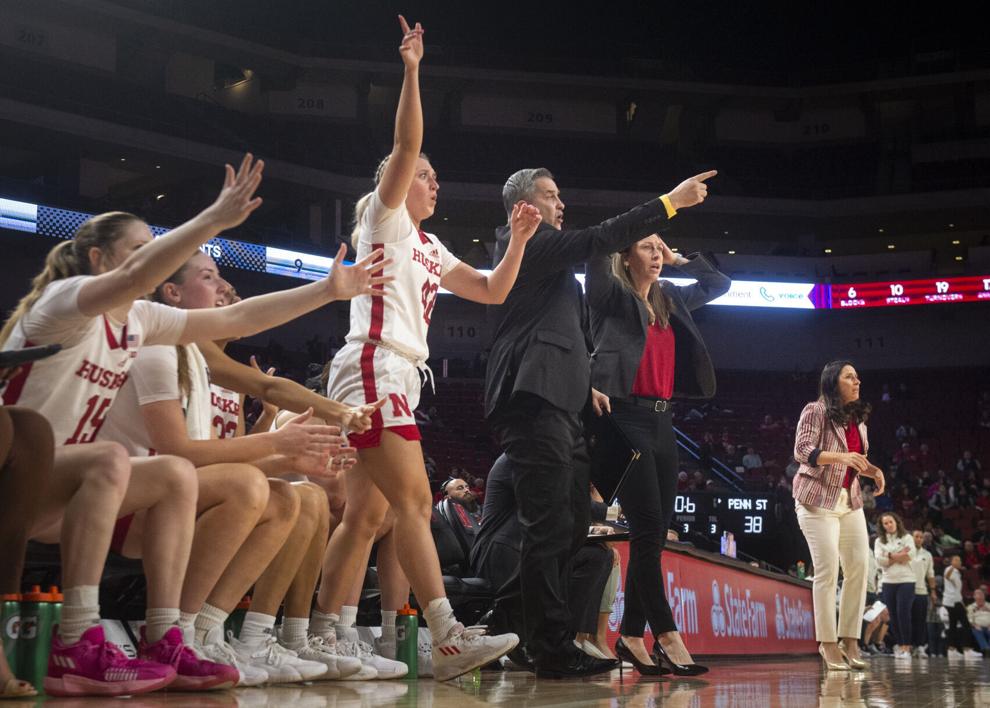 .