The giant inflatable yellow bike is back in Adelaide's Victoria Square, the men's and women's WorldTour riders have arrived from all over the world and the Australian cycling summer is heating up. It can only mean one thing: the Santos Tour Down Under is ready to roll.
The early-season Australian stage race was last part of the WorldTour back in 2020, before the COVID-19 pandemic emerged and triggered lockdowns all around the world. A national event was held in 2021 and 2022 due to travel restrictions, but Australia is back open for business and it is only right that the Tour Down Under is back on, once again offering a warm-weather start to the cycling season.
"As a season opener the Tour Down Under works really well," EF Education-EasyPost directeur sportif Tom Southam tells cycling news in the team area after Alberto Bettiol and the other riders in pink returned from a ride.
"We have this week before the race, when all the teams come in, get settled in and ready to race. It doesn't happen like that in many races but the Tour Down Under has a nice build-up to the season and the race. It also builds the expectation and tension before the race."
As a WorldTour race, with early-season prestige and a now bigger than ever haul of UCI ranking points up for grabs, the Tour Down Under is an important start to the new season.
"You always want to start well here," Southam says. "It's the first big race of the year and it's a WorldTour race, so everybody is watching. Everyone in Europe is watching, everyone in America is watching, so we always take this race seriously.
"There are a few traditional European teams who come and ease their way into the season and that's fair enough. But we look at it as an opportunity to get going early and get what results we can."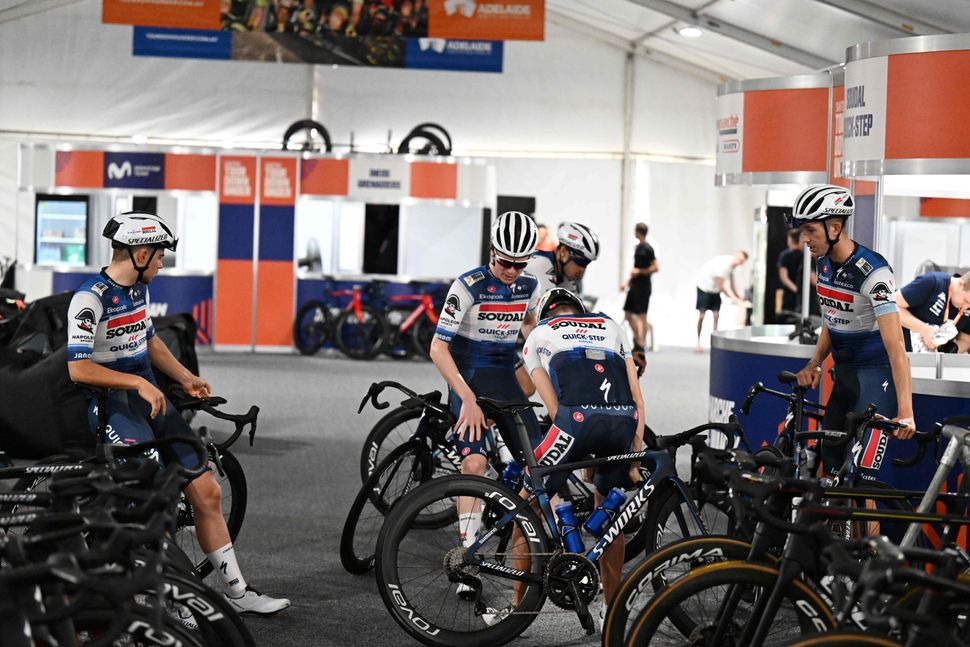 Australia's home races
The riders are staying in the Hilton hotel overlooking Victoria Square. The hotel lobby is covered in huge posters of former winners, including 2020 men's winner Richie Porte and women's winner Ruth Winder. The women's race is still only half the length of the men's, but this year it is part of the WorldTour for the first time, and a combined men's and women's event seems the perfect way to start the season
Victoria Square has already been turned into a giant Tour Down Under village, with a bike expo, entertainment area and family zone, team zone and even a 'knock-off' area, where people can gather for a drink after the racing.
The riders have been acclimatising and completing one final block of training before tapering for the start of the racing. Temperatures of 37°C are forecast for Friday and Saturday before a rain shower brings in far more racing-conductive temperatures for next week.
There are 28 Australian men in the 140-rider peloton and 30 Australian women in their 78-rider peloton, with many expecting the 'locals' to dominate both races after most of them were able to enjoy the offseason at home, training in the Australian summer for one of their biggest goals of the year.
The Jayco-AlUla team are looking for home success in both the men's and women's races after the lack of a major Australian race left them disadvantaged in comparison to their French, Belgian and Spanish rivals. Michael Matthews has returned to race the Tour Down Under after a decade of focusing on the European spring Classics, while Simon Yates is also in Australia and ready to take on the race, with support from a strong and motivated Australian support squad.
Jayco-AlUla are looking to score a haul of ranking points to begin the 2023 season with concerns about the WorldTour relegation battle that affected racing so much in 2022 and will continue to do so in 2023.
How the men's race will be won
Both the men and women ride an evening criterium on Saturday, with the women's Tour Down Under starting on Sunday and lasting three days. The men's six-stage race gets underway on Tuesday and ends on the following Sunday atop Mount Lofty in the Adelaide hills.
The word on the streets of Adelaide – and especially in the team area – is that Matthews will be an overall contender, fighting with Adelaide native Rohan Dennis (Jumbo-Visma) and perhaps new Australian champions Luke Plapp (Ineos Grenadiers) and Jay Vine ( UAE Team Emirates) for the winner's ochre-coloured jersey and huge trophy.
Matthews highlighted the heat and his need to adapt quickly when speaking to cycling news on Wednesday after a morning ride. He only arrived from Europe last Wednesday but finished second in Sunday's national championship road race, an immediate show of his form and ambitions.
Simone Giuliani was at the recent national championships for cycling news and she believes three-time winner Amanda Spratt will be hard to beat in the women's race after her move to Trek-Segafredo. She included Grace Brown (FDJ-Suez) and the Jayco-AlUla duo of Ruby Roseman-Gannon and Alex Manly in a list of contenders in her full preview (opens in new tab) for the Women's Tour Down Under.
Southam was in the EF Education-EasyPost team car at the men's national championships after spending the winter in Melbourne. He expects the Australian riders to dominate the results in the men's Tour Down Under.
"Matthews is a favourite," Southam says when asked by cycling news to make a top-three prediction for the men's race.
"Then there's Jay Vine, who just won the national time trial title after not having a great road race. I think he'll be up there too.
"I don't know how he's going but the race is suited to a rider like Pello Bilbao of Bahrain Victorious. He can do a good prologue TT, sprint for the time bonuses and climb well for the hilly stages. But a European hasn't won this race since Tom-Jelte Slagter of the Netherlands in 2013 and there's a reason for that. I think the home riders are always going to have an advantage. They just want it more and prepare more for it.
"If it gets really, really hot, then the race could be muted but the long-range forecast is for it to cool down, so more riders can come into play and the race could be super open and really exciting. I'm kind of hoping the temperature stays low."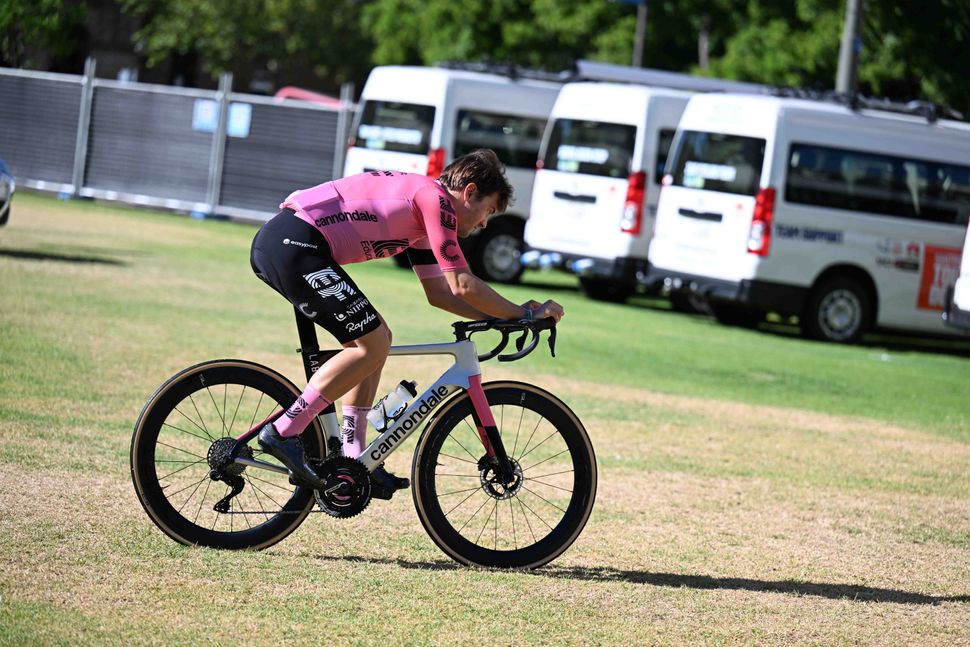 A new, more difficult race route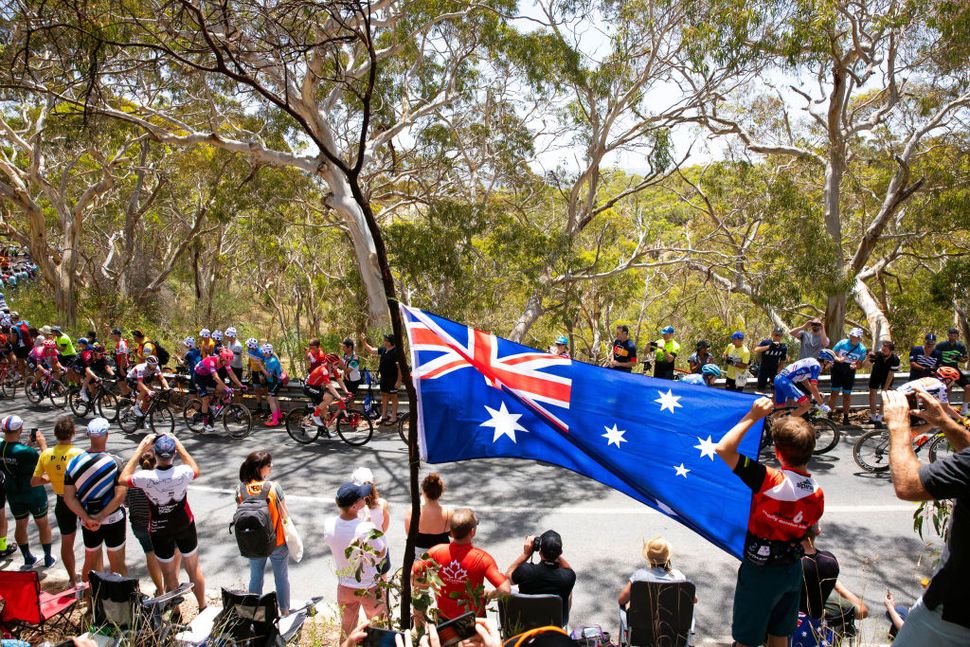 The addition of a prologue time trial and the replacement of Willunga Hill with Mount Lofty should make for a closer race, with the winner decided on the final finishing line atop the hill that overlooks Adelaide.
"New race director Stuart O'Grady has designed a race that is harder than we've seen before," Southam suggests.
"There are fewer opportunities for the sprinters and then those two really short stages with 3000 meters of climbing in a January race. It's going to be interesting to watch."
The 5.5km prologue will decide the first general classification is not long enough to decide the overall race.
"It's going to produce small time gaps and we'll go into the road racing with a pecking order. The type of riders that can do well in the TT are the same type of guys who can do well in the overall GC," Southam predicts.
"I think it'll establish things straight away. We'll know who's going to pull on day one and understand which way the race is going to go. I mean, if Matthews wins the prologue, it's pretty clear which way the race is gonna go."
Can he beat former time trial world champion Rohan Dennis?
"He won a 6km Paris-Nice back in 2016, so why not here? It's a different time trial to usual too, because it's road bikes," Southam says.
"I think that's a good idea. You can use an aero bike, aero helmet and you can use a disc wheel but that's about it. Though I'm sure some people will tweak their positions too. All the kids love their narrow bars these days, don't they?"
Seconds will be won and lost on each stage with the finish on Mount Lofty having the final word.
"That last stage is so short and goes straight uphill," Southam warns. "There could be a select group of 30 or 40 riders when they go over the top of Mount Lofty for the penultimate time, then we have to see what happens and especially what happens on the climb to the finish. It'll decide everything."
Adelaide, the peloton and the world of cycling can't wait to see if those predictions come true.