Wallabies coach Eddie Jones has taken a cheeky swipe at Australian Rugby League Commission chair Peter V'landys, jesting that the "horse guy" has been spending "too much time in the TAB".
On Monday morning, Dave Rennie was sacked as Wallabies coach following an underwhelming three-year stint as national mentor, with Jones unveiled as his replacement in a $4.5 million deal.
The 62-year-old, who was stood down as England coach seven weeks agois set to lead the Wallabies through to the 2027 World Cup campaign on home soil.
Stream Over 50 Sports Live & On Demand with Kayo. New to Kayo? Start your free trial now >
Speaking to the Sydney Morning Herald this week, Jones hinted that he was already looking to poach three former schoolboy rugby prodigies that were kicking goals in the NRL to help spark a Wallabies revival.
In response, V'landys took a swipe at rugby union's ball-in-play time disparity, encouraging NRL players who switched codes to "take their mobile phone with them on the field because they've got 30 minutes to tweet, Instagram or TikTok ".
"We wish Eddie the best of luck, and I hope he's got his mobile phone with him so he can fill that 30 minutes as well," V'landys told AAP extension.
"I'm not concerned because why would you want to leave the greatest game of all for another game? There is more to it than money. There is also enjoyment and the quality.
"We've got the greatest game of all … people will always want to play the greatest game of all."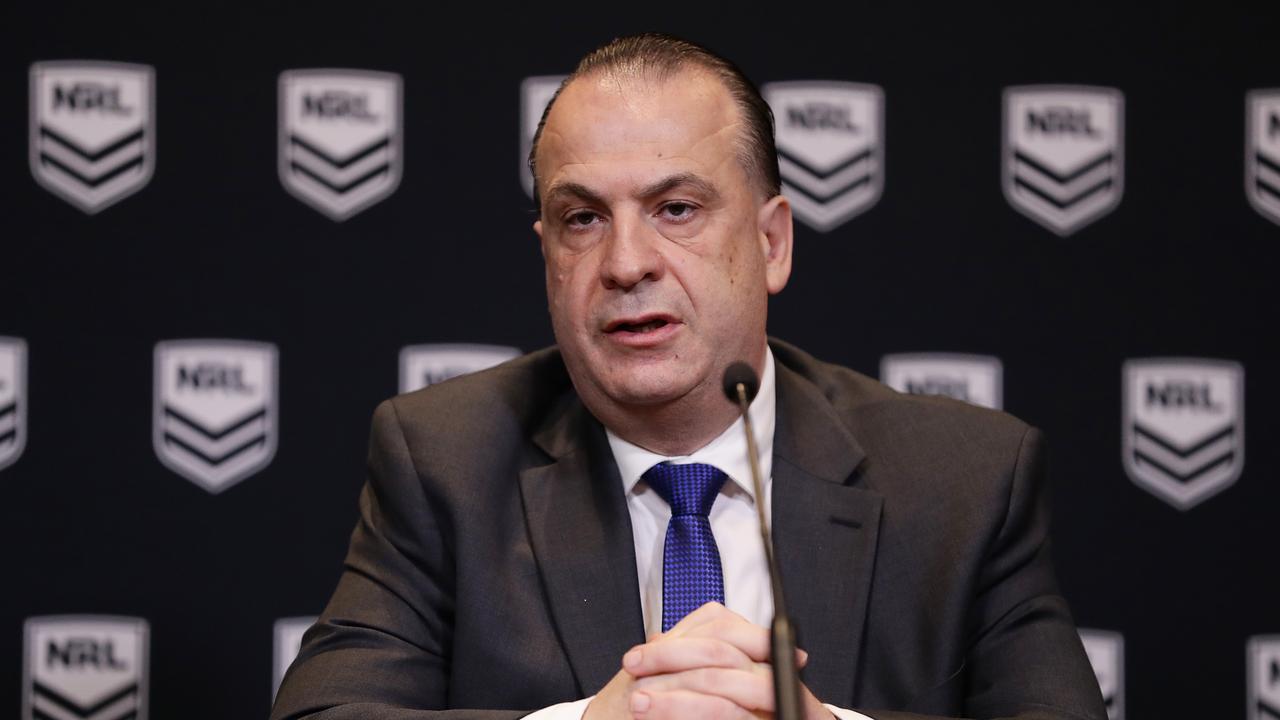 Speaking to reporters on Thursday, Jones rejected V'landys' claim that rugby union was boring, adamant he could sway some of the NRL's top talent to switch codes in the coming years.
"I think he's been probably sitting in TAB too much, I encourage him to get out of the TAB and go and watch some Super Rugby, I'll invite him to a game," Jones said.
"If we can play some good rugby, people will want to watch us play. And if we win, then we'll be in a better position in the media … all the rugby league journalists want to be part of it,
"We might even get, what's his name, the horse guy to a media conference. V'landys.
"So the task is relatively simple, but the process is the difficult part. Everyone knows what we want to do, I've heard guys who I've coached, they tell me their sons don't watch rugby anymore.
"That happens when you're not connected with your fans, and part of that is the winning process and part of that is how we conduct ourselves.
"There's a clear message; we've got to try to become a team of the rugby community, and that's hard in the professional era where you need to have good training camps, and you can't spend the amount of time in the public as you used to, but we're going to have to find a way to do that."
Jones confessed it was unlikely he would sign any NRL players ahead of this year's Rugby World Cup in France, which gets underway in September.
"I don't think I've ever said we need to poach players before September, I said there's a priority in what we need to do in relation to rugby league," Jones said.
"In the Australian rugby landscape, rugby league is a pretty intense competitor, and they compete for the fans, they compete for television money, they compete for the players.
"In the short term, and we're talking about the World Cup now, it's highly unlikely any players are going to come from rugby league, because they're all on contracts, they've all started pre-season training with their clubs , it's highly unlikely they're going to jump.
"But going forward I think there's a big responsibility for rugby in Australia to make sure we retain the talented kids that are playing rugby."
Rugby Australia had reportedly been in secret talks with Jones 14 months before his appointment, with meetings dating back to the Wallabies spring tour of November 2021.
Speaking to BBC Radio 5 Live on Thursday, Jones rejected accusations his actions were disloyal to English rugby.
"I don't know of anyone who doesn't think about their future," he said.
"I can't see how that is being disloyal or whatever people want to portray it as being."
The Rugby Football Union had not insisted on a non-compete clause in Jones' severance package, allowing Jones to sign for one of England's biggest rivals and take his intellectual property with him.
Australia and England will potentially meet at the Rugby World Cup quarter-finals, where Jones' wealth of knowledge of his opponents could prove advantageous.
"I think the nice thing about playing against a team you have coached previously is that you've got these relationships with players and maybe with some staff," Jones said.
"It creates a really good rivalry. I enjoyed coaching against Australia and coaching against Michael Cheika and I'll enjoy coaching against Steve Borthwick and England."
Jones has 'plenty of time' before WC | 01:04
.